Femme Couture, a line of cosmetics sold at Sally Beauty Supply, sells a mascara called "Lightning Lash," which is meant to lengthen your lashes to the sky. The mascara wand really grabs every single lash and separates wonderfully, while also making each eyelash extremely long. Going through a colored mascara phase, I purchased "Electric Blue," which looks amazingly bright on the outside of the tube. Since most colored mascara's I own do not give me a good color payoff, I was cynical, but ready to see what kind of color this distributed onto my lashes. Curious?
Femme Couture Lightning Lash is designed with a special extreme lengthening wand that helps to evenly apply the mascara from root to tip. This formula grabbed every single lash, separated it, and lengthened it greatly. I was very pleased with the formula, and how great of a job it did making my stubby lashes look long. The "Electric Shade" blue is bold, and really helps your eye color to pop. This "Electric Blue" will be especially beautiful for blue and brown eyed babes. But does it actually show up on your lashes, or is this another colored mascara gimmick?
This mascara had amazing color payoff for a colored mascara. In fact, I would rate Femme Couture Lightning Lash as my most pigmented color mascara in my entire collection. The color was pure, pigmented, and rich when it came out onto my lashes. Not into electric blue mascara? This mascara comes in five other colors: Black Tinsel, Navy, Midnight Black, Blackest Black, and Black/Brown. I am definitely going back for the Black Tinsel, which is a black with a silver sparkle to it, and Navy, which has the blue shade, but is more demure than electric blue. I need all the lengthening I can get for these stubby lashes!
Femme Couture Lightning Lash is available at your local Sally Beauty Supply store, and retails for $7.99 . You can also browse and purchase this product online by clicking the photograph and link below: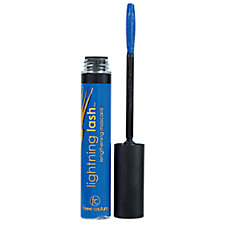 Femme Couture Lightening Lash Mascara Electric Blue
Feel free to use the contact form, or leave a comment below.
[ALL PHOTOGRAPHY ON THIS SITE IS TAKEN BY REBECCA KAZIMIR. NO PHOTOGRAPHS ARE TO BE REPRODUCED WITHOUT WRITTEN PERMISSION.]