Femme Couture, a brand of cosmetics sold at Sally Beauty Supply, has really stepped up their game, adding several new products to their line. One of them which caught my eye was this Mineral Effects Floral Blush, which came in several shades, boasting a gorgeous shimmering floral design baked right into the blush. This blush reminds me of the high-end bronzers and blushes we have seen this season, with intricate and gorgeous designs of bronze and pink intertwined with one another. To see more photographs,
Femme Couture Mineral Effects Floral Blush in "Blushing Mocha" is a gorgeous mineral blush with a peachy-pink  intricate floral pattern in a shimmering bronzer. The result is both lightly flushed and bronzed goddess, and will easily carry you into Autumn, being the perfect shade to sweep on your cheeks for some extra color as the temperatures become cooler. This blush feels super soft on your skin, and blends flawlessly. The mineral formula keeps your skin looking great, and the blush lasted on my face for the entire day – even through the one-hundred degree temperatures!
Femme Couture Mineral Effects Floral Blush is available in four shades: Plum Posh, Soft Spoken Pink, Blushing Mocha, and Dusty Mauve.  This blush retails for $9.99 at your local Sally Beauty Supply store. You can also browse and purchase this product online by clicking the photograph and link below: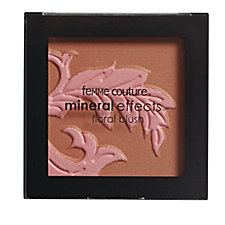 Femme Couture Mineral Effects Floral Blush Blushing Mocha
Feel free to use the contact form, or leave a comment below.
[ALL PHOTOGRAPHY ON THIS SITE IS TAKEN BY REBECCA KAZIMIR. NO PHOTOGRAPHS ARE TO BE REPRODUCED WITHOUT WRITTEN PERMISSION.]