Beauty Gala's new feature column, "Beauty Encyclopedia" is your new how-to guide on beauty basics. Look for this column to contain helpful videos and tips on basic beauty principles and applications. To kick things off, we are going to show you how to properly apply false eyelashes. So many of my girl friends would love to wear false eyelashes but actually fear them! Beauty Gala is here to show you that anyone can apply and wear false eyelashes with great ease. To watch our how-to video, as well as read more tips, and see where you can buy the materials for this look,
False eyelashes can give your makeup look a number of different effects, depending on the type of lashes you use. There are individual and half lashes for a more natural look, colored lashes for an animated effect, as well as lashes with rhinestones and glitter on them. Eyelashes also differ in length, thickness, shape, and intensity to give a specific look (i.e, "mod" lashes from the 60's). False eyelashes are great for special events or playing up fun makeup looks, especially if you are like me and have short, unimpressive natural lashes.
False Eyelashes 101
You will need:
1.) A pair of false eyelashes. Eyelashes can be purchased at a number of different locations, including drugstores, major retailers, beauty supply stores, and online. I personally purchase my eyelashes from: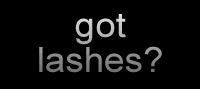 which has fantastic, inexpensive prices and customer service on falsies. The lashes I use often (and in the video above) are made by NYX, retail for $4 a pair, and can be purchased by clicking the image below:
2.) Eyelash glue/adhesive. You can purchase many different brands of eyelash glue, but my favorite is DUO eyelash adhesive which can be purchased at major drugstores and retailers, and also online by clicking below:
Tips for application:
Always allow at least thirty seconds for the eyelash adhesive to become tacky. The eyelash glue will not become sticky and hold to your lash line if you do not allow it to become tacky.
Apply the inner and outer corners of your false eyelashes first. These are the two areas that false lashes tend to not want to stick to. If your lashes come up at either corner, it will become obvious you are wearing fake lashes. Start at the edges for a straight application, and pat towards the center.
Apply the lashes as close to your natural lash line as possible. Be sure to apply as close to your natural eyelashes as you can, to avoid having a gap between the false eyelashes and your real eyelashes.
Line your upper lash line with a black eyeliner. Liquid, gel, or pencil liners will work just the same in this situation. We simply want to cover the base of the false eyelashes so they look as real as possible.
Wait for the lash glue to dry. When the lash glue dries, it will become clear and you will no longer see it on your eye.
Was this post helpful? Don't forget to vote for our next celebrity-inspired makeup look!
Feel free to use the contact form, or leave a comment below.
[Products were purchased with my own money.]

[ALL PHOTOGRAPHY ON THIS SITE IS TAKEN BY REBECCA KAZIMIR. NO PHOTOGRAPHS ARE TO BE REPRODUCED WITHOUT WRITTEN PERMISSION.]